Tech Tuesday #28
Welcome to the latest installment of Tech Tuesday! There was a ton of stuff going on in the tech world this week, but unfortunately I've only got so much space to work with so I will pick the top 2: Google Buzz and Windows Phone 7. Both attracted a huge amount of attention on Twitter and the blogosphere, and for good reason.

Google Buzz
Earlier this week the tech world was buzzing about Google Buzz (see what I did there?). What is Buzz you ask? Buzz is Google's latest attempt at joining the mainstream social network market. Orkut, being the first, only caught on in Brazil and India. Buzz feels like Twitter or your Facebook feed on steroids. As any good social networking tool, it lets you share status updates, website links, pictures and video with everyone or just specific individuals. It takes it one step further – when links are shared, Buzz presents thumbnails of pictures from the webpage and plays video directly within the post (similar to Facebook). If that wasn't enough, it aggregates status updates and posts from other applications (similar to FriendFeed which, ironically enough, was started by 4 ex-Googlers) to make a one-stop shop for all your stalking social networking needs. As expected, people can comment on Buzz posts, which then get sent to your Inbox so you don't miss them. Posts even can be sent other people's Inbox by put an @ + their email address in the post's Comments box. Using some type of Google magic, Buzz can even recommend posts from people you're not following that you may be interested in.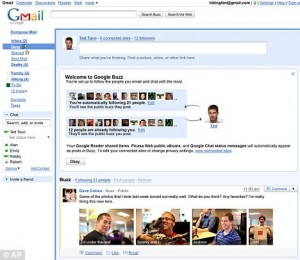 Buzz even has features for mobile platforms. The site uses HTML5 so it works on Android and iPhone devices, and there are sure to be 3rd party apps to follow. Buzz also works on Blackberrys if you use a 3rd party browser like Opera. If your device has AGPS, Buzz can figure out which building you're in and post it with a geotag onto your Buzz feed in real-time. It ties in to Google Maps and can associate updates and pictures you've taken with your location. It shows your updates as well as what other people are saying nearby in the form of conversation bubbles directly on Google Maps.
Sounds cool, now where can I find it? I'm glad you asked! Buzz is integrated within Gmail and appears as a tab in the left-hand navigation area. When launched, the first thing it does is auto-follows users in your Contacts list that would also have Buzz. When you enter information from your social network sites or photo galleries like Picasa and Flickr and Buzz will consolidate it all on to your Buzz feed.
All of the attention hasn't been positive however. Google faced a slew of privacy complaints when it was discovered that Buzz's default settings exposed user's profile, posts and some Contacts to the public without the user's knowledge. Google had done a great job of addressing these concerns and adding additional privacy controls, but like all controls, they only work if they are used properly.
Is Buzz the one social network to rule them all? Only time will tell, but it is off to a great start. Google Buzz product manager Todd Jackson said there have been "over nine million posts and comments" in just the first 2 days after launch and that there is still "a long list of improvements on the way." Good times peoples, good times.
Mashable:
Google Goes Social with Google Buzz
Google Buzz Surpasses 9 Million Posts and Comments
Google Buzz Has Completely Changed the Game: Here's How
Engadget:
Google Buzz takes mobile location services to the next level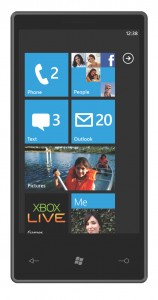 Windows Phone 7
Think Google and Apple have a lock on the mobile smart phone market? Think again! On February 15, Microsoft CEO Steve Ballmer unveiled the next generation of Windows Phones: the Windows Phone 7 Series. This is not just a new skin on the skeleton of the WinMo 6 platform. Microsoft started from scratch and created Phone 7 with a completely new code base. The interface, which shares code (internally code-named "Metro") with Zune and Xbox Live's NXE, is completely different from other previous Mobile OS and much sexier. There is an obvious focus towards social networking as well as enhancing the user experience. Instead of a home screen with static icons linking to applications, Phone 7 uses "live tiles" which show dynamic content pulled from applications and other data streams in real-time. The interface divides its functions into 6 sections or "hubs" which consolidate related content into a single view:
People – This hub contains live feeds and status post updates aggregated from your social networks (at least Facebook and Live were demo'd).

Pictures – This hub focuses on sharing pictures to your social networks and serves as a central location to view your entire collection or the collections of your contacts.

Games – This hub not only has regular mobile games, but also allows connectivity with your Xbox Live account which can display info on your gamer profile, achievements, and let you customize your avatar. Oh, I almost forgot… XBL ARCADE GAMES!!! That's right, you will actually be able to play Xbox Live Arcade games from your Phone 7 device! And not just play them, but actually earn achievements and gamer score as well! Top that iPhone!!

Music + Video – Joe Belfiore, Program Manager on the Windows Phone team, previously worked on the Zune dev team, so it makes sense that he took that knowledge and applied it to this new mobile platform. With a built-in FM tuner, use of online music services and streaming content from the PC, Joe touts that "every device will be a Zune."

Marketplace – An app store is now a standard for any new platform, and Phone 7 is no exception. This hub will be a centralized location to purchase all of the Phone 7's apps and games.
The Search function is both context and location aware and tied in to web services to provide rich information on whatever you are looking for. For example when you search for food it will provide a list of restaurants in the local area, contact info and reviews. When you search for a movie name, it will list all the theaters in the local area along with showtimes. If you did a Search within the People hub, it will list name matches, contact info for each match and any social streams, status updates, etc linked to the person.
From the hardware perspective, Microsoft has taken a new approach. Andy Lees, Senior VP in charge of Microsoft's Mobile Communications Business, spoke about establishing very close relationships with hardware vendors to ensure that all devices will have the minimum system requirements needed to run Phone 7 in a smooth, elegant manner. In addition to the system requirements, they have established that all devices will have the same physical characteristics: a capacitive touch screen and 3 physical buttons (Start, Search and Back). This will allow users to receive a consistent Phone 7 experience no matter what device they use. Microsoft already has buy-in from all US network operators, many international operators, and a good number of hardware OEMs.
As with all new developments, there are still many outstanding questions. First of all is Flash support – as of right now Phone 7 does *not* support Flash, but Steve emphasized that Microsoft is not against working with Adobe to support it in the future. Additionally, support for Silverlight and and HTML5 however were not mentioned at all, which is concerning since Flash is definitely not supported just yet. Lastly, while Steve mentioned that there would be plenty of developer tools available, there was little talk about how 3rd party applications would interact with the new platform, or even if it would support multi-tasking.
Still, despite all the open questions, all the major tech blogs agree that this is ridiculously exciting news. Prior to this announcement the consensus was that Microsoft was effectively out of the mobile game, with WinMo 6 and 6.5 being complete flops. Phone 7 is a complete game-changer and puts them right back in competition. Devices expected to hit the market in time for the holiday season this year.
Network operators on board: AT&T, T-Mobile USA, Verizon Wireless, Sprint, Deutsche Telekom AG, Orange, SFR, Telecom Italia, Telefónica, Telstra and Vodafone
Hardware OEMs on board: Dell, Garmin-Asus, HTC, HP, LG, Samsung, Sony Ericsson, Toshiba and Qualcomm
Microsoft:
Register here for updates and more
Official press release
Screenshots
Replay press conference here
MSDN Hands-On Demo
'Life in Motion' Drives Development of New Windows Phone 7 Series
Engadget:
Windows Phone 7 Series is official, and Microsoft is playing to win
Windows Phone 7 Series hands-on and impressions (updated with video)
Windows Phone 7 Series Interface
Microsoft offers up lengthy Windows Phone 7 Series video walkthrough
Editorial: Engadget on Windows Phone 7 Series
Gizmodo:
Windows Phone 7: First Videos
Windows Phone 7 Series Hands-On Pics and Video
Windows Phone 7 Apps: What We Know, What We Don't
Windows Phone 7 Series: Everything Is Different Now
How Will Xbox Live Work on Windows Phone 7?
Is There App Multitasking in Windows Phone 7? (Hint: It's a Lot Like the iPhone)
BoyGeniusReport:
Microsoft introduces the new Windows Phone 7 Series mobile platform
See you next week!