Nothing. But. DRAGONS! How awesome is that? Pretty friggin awesome.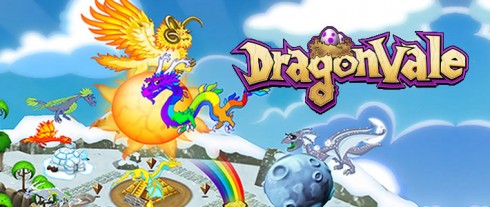 Sick DL'd this game weeks ago for the iPhone (it's also available on iPad) and I never even gave it a gander until a couple days ago. I was bored and decided to open it up and check it out. I loved it.
The premise is easy: you're given a floating island to start your very own Zoo/Theme Park dedicated to Dragons. DragonVale starts you off with an easy tutorial on how to care for your dragons, manage your park, make money, and buy buildings and habitats from the market.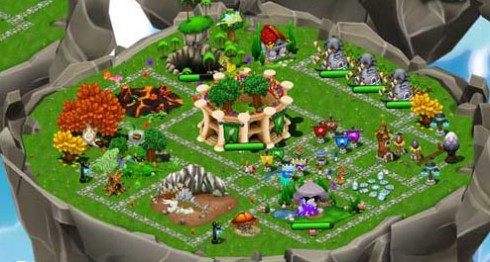 Everything is time based. Each egg you hatch, each building you put up, growing food, and breeding (yes, I said breeding, but we'll get to that later.) — takes a set amount of time to occur.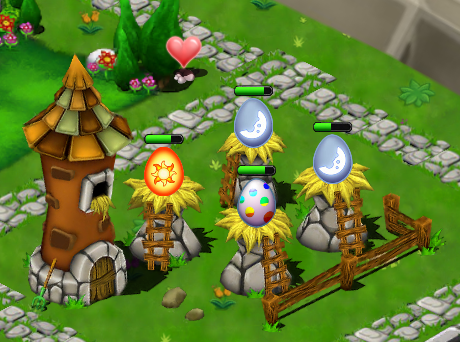 That's where a currency called "Gems" come into play. These red "Gems" help by speeding things up and instantly readies the task at hand. The tutorial sets you up with a few from the start so you breeze right through it, but these gems are limited, and to replenish them you have to Purchase them through an in-app market.
(DragonVale is a Free-2-Play iOS game with in-app micro-transactions.)
Now don't get started on the whole "OH, That's how they get ya" routine. These guys at Backflip Studios gave you an AWESOME free game to play. You don't HAVE to purchase their in-game content… but if you like the game enough to play it, then they deserve a little somethin somethin to help bring you the next piece of awesome they're working on. So buy some friggin Gems. AND, you should look at ALL the "Freemium" games that way. I'm gonna buy Gems JUST for the Strong Bad reference in the game. There are meme references, too. Let's see if you find 'em.
I digress. You can also earn gems through your Game Center friends. You have the opportunity to grant a certain number of gems per day to anyone on your Friends List. You hook them up, they'll hook you up. It's that simple… Unless you have no friends playing… Get them to. EVERYONE should check this game out. I want more friends playing too. (Hit me up! GT=PsychoVandal) You can also link your Facebook account to invite all those lovely friends, too. Friends, Friends, Friends!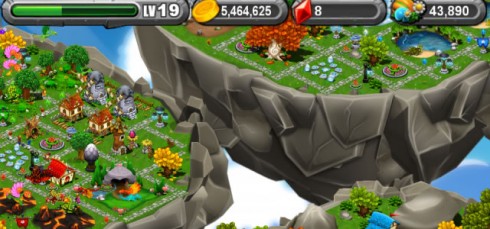 Above is a shot of the floating islands. You get one to start, but after a while, you'll have an entire floating fleet of them harboring your massive Dragon park. The amount of stuff you can buy is crazy. You'll fill 'em up quick when you get the cash flowing.
OK, to the Breeding. Each Dragon has an element type. The basic Elements are Fire, Earth, Water, Lightning, Air, Plant, and Cold (Ice). I almost said "Heart"… Captain Planet came to mind… Anyway, you hatch the egg, feed it to maturity, then send it to the Breeding Cave and wait for the "Magic" to happen. The cool part is that there are MULTIPLE Dragons for each combination, as well as rare ones that come from breeding the hybrids. I counted 32 types from different combinations, but I heard they've added MORE. I also assume they'll KEEP adding them in the future. This just makes me think of Pokemon, "I gotta catch em all", I know I want to see them all.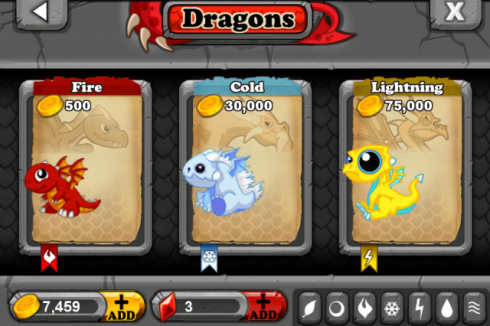 Anyway, I'm done telling you about the game. you need to see this thing for yourself. Go Download(desktop, click here to open in iTunes) this bad boy NOW. And, while you wait for that to happen, watch this…

The boys at Backflip have done good. Real Good. A great game idea with great artwork and usability like this should be in your Top Games folder on your iPad or iPhone. This game will keep you entertained for a LONG time. Follow them at @BackflipStudios on Twitter to keep up to date on new DragonVale additions and new games they produce!