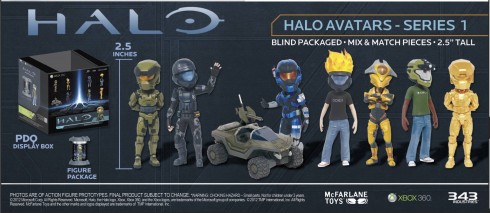 Edit: Warthog Avatar Code AND Halo Avatar Figurine Winners have been announced! Scroll to the bottom to see who won.
In an effort to reach our goal of "1000 likes before PAX Prime" we're doing a giveaway! Yay! Get excited! Entering to win is simple though it does require more than one step.
We'll be giving away prizes in two tiers. The first prize will be given away as soon as we reach 900 likes. And the second prize when we reach 1000 likes.
Prizes:
900 likes reached: 3 people will receive a Halo 4 Avatar Warthog Code
1000 likes reached: 6 people will receive a Halo Avatar Figurine to add to OR start their collection.
How To Win:
1. Like us on Facebook.
2. Share one of our statuses, posts, or photos from the official "A Match Made In Halo" facebook page.
3. Leave a comment on this blog post letting us know the specifics of what you shared (ie which photo/status/post.)
4. Be sure to fill out the email address field when leaving your comment so we can contact you if you win.
The Warthogs will be given away first, but each commenter has a chance to win either prize. Winners will be chosen at random from the comments left on this blog post. This contest is open to anyone and everyone that can Like/Share/Comment. Just remember We'll be choosing winners from the comments on this blog post (NOT comments on facebook.)
We have a week left before PAX and only need 150 likes to reach 1000! Let's do this! Good luck!
WINNERS
Warthog Avatar Code:
Dan Granger
Slim30
rann
Halo Avatar Figurine:
Parker Young
Il Radd
Christopher Thacker
EvilTeddy03
Jason Colmenero
Westley Carr