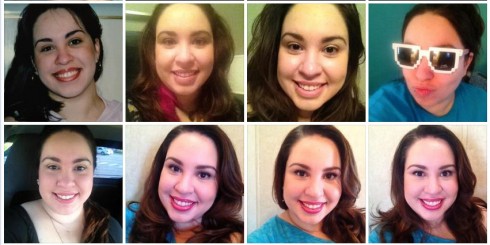 Did you think I wasn't aware that I was overweight? That I've never looked in the mirror? That I've never gotten on a scale?
I'm currently 238 lbs, which is 12 less than I used to be. At my heaviest I was 254 lbs and it felt awful. It's taken me quite a bit of courage to admit it, but I'm not ashamed. Do I wish I was thinner? Of course (carrying around this extra weight isn't easy.) Do I want to be healthier? Absolutely. But I'm writing this post because I'm sick and tired of people making the association that I'm overweight because I'm a Gamer.
Sure gaming is a sedentary activity, but so are most office jobs. Do you ever hear people say 'She works in an office. She must be fat.' I know I don't. So why does this happen with gaming?
I'm fat and I'm a gamer. But I'm not fat because I'm a gamer. Each is only one part of the whole that defines me. Being overweight is not one size fits all. People seem to think that just cause I'm fat I must eat a box of jelly donuts for every meal and that I never get off of my ass. I just sit on the couch and play video games. Well let me tell you, those people are wrong. As a matter of fact, gaming is probably one of the biggest reasons I'm able to get my exercise in. (Dance Central, Just Dance, Zumba, Your Shape, Nike Kinect… they are all awesome games)
Eating right and working out is a solution for A LOT of people, however it's not that simple for me. I haven't fully identified my obstacles yet, which is why I've been unable to find a solution to MY weight struggle. But either way, who are you to judge?
It was over four years ago that we announced the news of our Halo Themed Wedding. I was excited to tell the world I had met the love of my life and that we would be using our wedding to celebrate how we met while playing Halo 2. I'm going to be completely honest. The responses shocked me. I expected there to be haters. What I didn't expect however was for every hater to say the same exact thing — "She's fat." Comment after comment after comment. I was so upset by it that I cried several times. Is that ALL people care about? That scares me. Cause see, here's the thing, I've been the skinny girl. I bet you didn't know that. I've had guys come onto me based only on my looks and let me tell you, that shit sucked too. I'll take being loved for who I am over being wanted solely for my body ANY DAY. I feel lucky and honored to have found someone who loves me for me and not some stupid number on the scale.
I'm a mother, a loving wife, an educator, a Graphic/Web Designer, a friend, a crafter, a sister, a technology enthusiast, a gamer, an animal lover, a loyal, passionate, caring, and trustworthy person. Whether I'm 150 lbs or 350 lbs I'm still the same person on the inside. If all you see is a fat chick when you look at me, I honestly feel bad for you. You're missing out on a friend to game with and a whole lot of awesome.