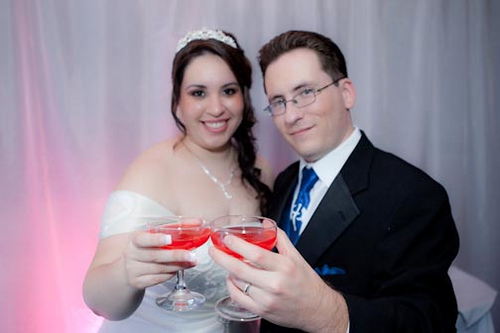 So folks, our 1-year Anniversary is right around the corner…yeah I know, quick wasn't it? Anyway, We would like you to help us celebrate it! Here's the deal. We are hosting a Screenshot Contest. I think this is going to be fun… Theme = "A Match Made In Halo's 1st Anniversary," of course. We want you to forge a creative ScreenShot of your choice. Use Hearts, our Gamertags, Wedding date, AMMIH logo, or whatever might visually represent A Match Made In Halo. Most importantly, BE CREATIVE!
We will choose one Grand Prize winner and two Runner Ups. Winners will receive AMMIH swag and memorabilia from the wedding!
Email your submissions to Screenshots@AMatchMadeInHalo.com
Deadline will be 11:59pm EST Saturday the 16th.
Winners will be announced on our big day, "1/17"
Grand Prize winner will receive:
AMMIH Handmade 1 1/4″ Pin
AMMIH Handmade Bookmark
Limited Edition Save-the-Date
Limited Edition AMMIH Wedding Invitation
Limited Edition Wedding Favor (Blue sphere Plasma Grenade "looking" Candle)
Limited Edition Custom(Personalized) Thank You Card
Autographed Wedding Photo
1 Year of Xbox Live Gold Membership
Runner Up (2) will receive:
AMMIH Handmade 1 1/4″ Pin
AMMIH Handmade Bookmark
PAX 2009 XBox-360 Avatar Shirt
Personalized Thank You Card
1600 MS Points
Well, there you have it… Year one coming to a close, I still can't believe it myself. But it's here and there's no denying it. Let's see how fast the next one shows up!
So get crackin'…make us proud! I cannot WAIT to see what you guys come up with! Good Luck, and let the Forge be with you…