I've been toying with the idea of doing a weekly blog giveaway for quite sometime. Sadly, we never actually had anything to give away until now. I'm hoping this will change as Psycho and I attend more events. But anyway… lets get this thing rolling, shall we?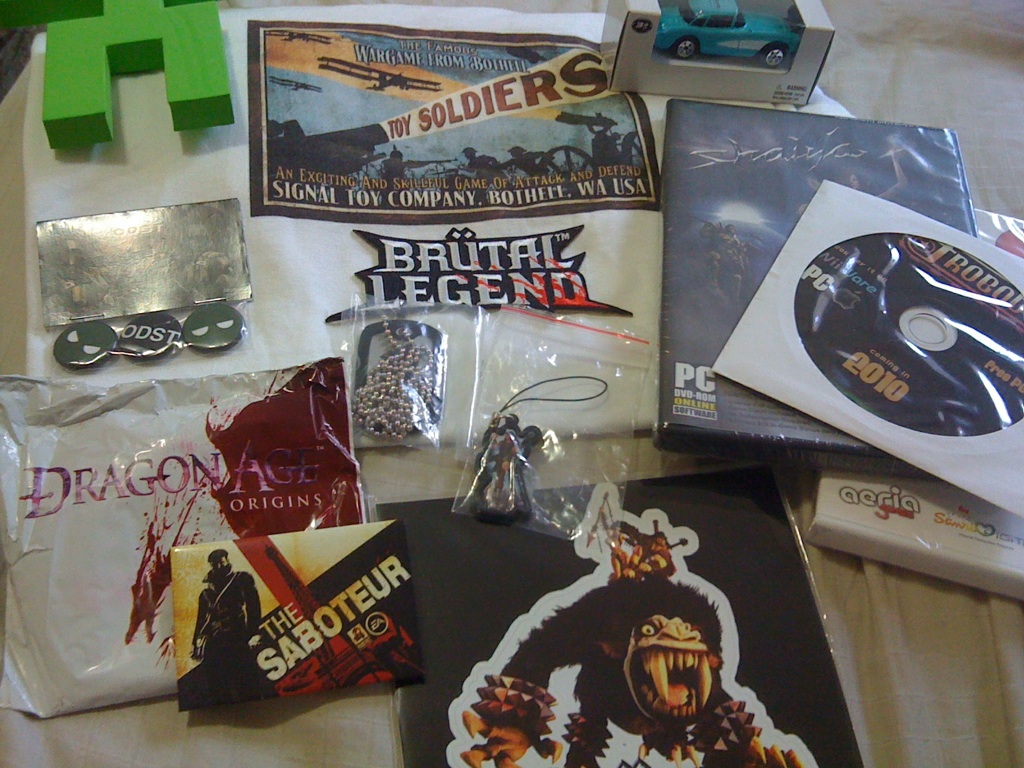 The Prize:
Toy Soldiers T-shirt: Large
Pack of Brutal Legend Decals
Brutal Legend Zipper Pull
Brutal Legend Patch
Master Chief Dogtag
Halo 3: ODST Superintendent Pins
Dragon Age Blow-up Sword
Scrap Metal Toy Car
The Saboteur Pin
Shaiya PC Demo
Frobots PC Demo
PAX Avatar Shirt (Generously donated by RogueDarkJedi. Codes will be emailed to winner.)
The Rules:
1. You must register (with a valid email address) and leave a comment answering one of the 3 following (two part) questions:
Assuming you already own a copy of ODST, when you finally got home and tore open the package, did you play Campaign or Firefight first? Why?
If you DON'T already own ODST, are you planning on getting it? What will you play first?
If you have no intentions on buying ODST tell us why?
2. You have until 11:59 PM EST on Tuesday October 6th, 2009 to leave your comment.
3. A winner will be randomly selected from those that left comments.
4. The winner will be announced in next Wednesday's blog post.
Good Luck to everyone!