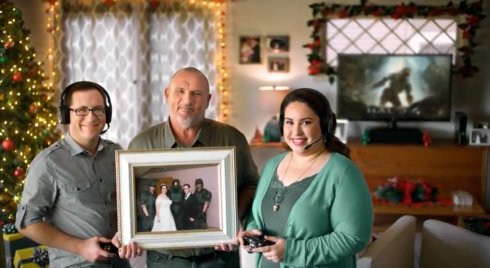 It Started With An Email
A few months ago (August to be exact) we were contacted by a marketing research company via the contact form on our website. The message mentioned 'research for a commercial campaign for a tech retailer' and wanting to feature stories of people who've had some sort of unique innovation or experience as a result of using a tech device. The email ended with 'I believe your story might be a good fit.'
I was skeptical at first and did not immediately respond. While contemplating the legitimacy of the email, we received another message. This time on our facebook page. Ok. At this point I was really curious.
After replying to their email and answering a few questions, PsychoVandal, his dad, and I were given the green light to set up a Skype interview. The three of us were compensated for the hour of our time and were told if the directors liked us, we'd be contacted again.
In an effort not to obsess about it, we put it out of our minds…
We're Off to Los Angeles!
As time went on, we received periodic updates that we were still under consideration. Then, in the first week of October, we received the call. "Pack your bags! You're going to LA!" On October 15, we flew first class to LA. You know how in movies when people get picked up at the airport, there's always a driver holding a sign with their name, just standing there waiting for them? That totally happened! It was so exciting!
We were driven directly to our wardrobe fitting where we had the pleasure of bumping into Whitney Avalon. Whitney has appeared on The Big Bang Theory, Days of Our Lives, several national commercials, and even did some voice over work as Cortana for Freddie Wong!
Once our clothing for the shoot had been decided on, we headed to the hotel (we stayed at the Grafton on Sunset Boulevard) to freshen up. Luckily we had some time to kill before having to be on set the next morning.
Hanging With Halo Friends
A couple of our LA friends knew we'd be in town. Unfortunately, one of them was too busy to meet up. However, despite how interesting of an experience this entire trip was, I have to say, the most memorable part about it was finally meeting our long time Halo friend, B5D Kritical. Kritical and his wife took us to LA Live and treated us to an amazing dinner at Yard House. We had a wonderful time and hope we have the chance to hang out with them again in the future.
Now, without further adeiu, I present you the Best Buy spot we were featured in.
The video below is currently showing in some movie theaters across the United States. Friends have reported seeing it in Regal Theaters. But, I'm not sure how all that marketing stuff works.
If you've already seen it, please share with us a short story in the comments of when and where. We'd love to hear about it!